I'm honestly such a procrastinator. I cannot tell you how annoyed I am right now. I've basically not written a blog post in like  A      G       E       S. Oh and btw, I do have some pretty awesome news at the end so you might want to stick around you know *wink wink*. Anyways, I've been nominated for The Inspirational Blogger Award by Friederike! You should definitely take a visit to her blog because it definitely inspires me! 🙂 So, Let's get onto the Inspirational Blogger Award!
RULES: (Because almost nothing exists without them)
Thank the blogger who nominated you in your post and make sure to link their blog!
Insert the blog award badge
Copy and paste these rules
Complete the blogger award scrapbook style questions
(make sure to include photos where possible)
Nominate 10 other bloggers who inspire you
Btw this award was created by Aleeha and Lucy from the HALE blog.
QUESTIONS:
1. Share a quote to inspire other bloggers!
I'll be sharing a quote that's been stuck with me for many many years.
I just absolutely love this quote so much! I was actually just scrolling through a bunch of tumblr quotes when I came across this beauty. It's so motivational and I feel like it's honestly a baswe quote, if you know what I mean!
2. Share a photo of one of your favourite places that you have visited. What do you love about this place?
Well, you see my favourite place is actually Canada or California but I haven't really been there before. But, my favourite place from the places that I have visited would be Brussels, Belgium AND (Yes, there's two) Switzerland when we went to Mount Titlis.
So, when we went to Brussels we went to like a gazillion chocolate shops because, as you may know, Brussels is famous for its amazing chocolate. So after I looked for some pictures on my phone I found this one chocolate shop that I really liked a lot!
This chocolate shop was actually called La Belgique Gourmande. It was a great shop with plenty of free samples to taste! I definitely recommend that you guys should go to this shop if you're planning on going to Brussels anytime soon!
The next one is Switzerland. We went to Mount Titlas. Like proper on the mountain and everything. It was a great experience and I managed to grab a souvenir too just before we left! Here's a picture that I took: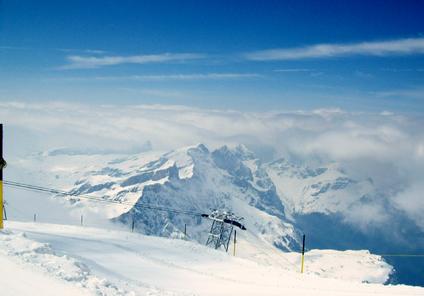 This was the view from the cable car a we were going up on the mountain. I think it looks really nice! 🙂
3. Share a link to one of your favourite blogs. What qualities do you love about this blogger?
I love a lot of blogs and I would definitely list them all here but unfortunately I haven't exactly got that much time! But, one of my favourite blog would definitely be Just Blank Space because her blog is so pretty! Judging by her Instagram (and blog) posts, she's super duper talented and can even turn a blank piece of paper into something gorgeous in just minutes!
4. Share a photo of a favourite book/film.
This is honestly such a hard question because I have a lot of favourite books (like a lot). Oh and recently I've just finished the Percy Jackson series and the Heroes of Olympus series (this series is related to Percy Jackson btw) so yeah. But, after PLENTY of thought I realised that this is ONE of my SEVERAL favourite books so here it comes:
I LOVE LOVE LOVE THIS BOOK! I don't want to give away any spoilers but I'll be making a post about my favourite character in this book (who is called Nico Di' Angelo) so stay tuned for that. Also, if any of you have read the Percy Jackson series or/and the Heroes Of Olympus Series then feel free to fangirl about it with me (hehe).
5. Do you have any other hobbies or passions outside of blogging?
Duh. I have plenty but I wanted to share two of them with you guys today. One of them is reading. I can read for like forever. No joke. One time on a Saturday, my parents went out and left me and my sister home alone and I spent the whole time (which was like 5 hours. I know, don't ask me what my parents did all that time) reading. Give me a bunch of good books and I'll just spend my whole lifetime reading it.
My next hobby is a little bit different. I actually like to design quotes. If you follow me on Instagram, you'll see that I have a quote book. I post lots of new designs that I've done too. I'm not perfect at art but topography is more of my thing!
6. List 5 places on your travel bucket list.
Canada (Obviously)
USA (Like Florida, California and LA)
Amsterdam (I just really like this place a lot!)
South Korea (KPOP!!!!!!!!!!)
Singapore (I've actually heard that it looks really amazing!)
7. Share a link to one of your favourite posts on your blog. Why is it your favourite?
Mine would be London Fireworks + 100 Followers! 
This is my favourite post because when I look back on it, it always reminds of my fantastic New Year and the fact that I achieved a 100 Followers in like a week! I think its great to have a post about one of your great achievement!
8. Share a photo of one item that you love. 
I love these two backpacks! They look so adorable and I just love the two pastel colours they come in!
9. Share an item which is currently on your wishlist. What do you love so much about this item/why do you want it?
A Macbook Air/Pro because it just looks really nice and I have thought of plenty of great uses for it too! I would love to do all of my homework and blog posts on it instead of having to borrow my dad's.
10. How long have you been blogging for? Do you want to continue blogging forever?
About less than 2 months. Well, blogging FOREVER. Maybe, maybe not. I guess I'll just have to see!
NOMINATIONS:
Annnnnd that's it! Sorry if you didn't get nominated! I'm really sorry! There's always next time. Anyway, I hope you guys liked this post because I definitely enjoyed writing it! Byeeeee!
-Anna xxx